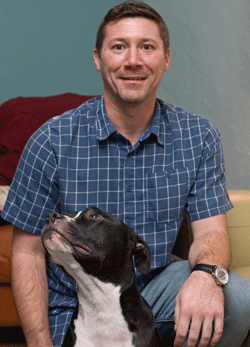 It's exciting to introduce Dan, an experienced pet trainer, who has joined Stay At Home Pet Services, llc as resident trainer. He is passionate about animals, their care and their relationship with their family.
Dan is a Cincinnati native and has been caring for and training dogs for almost 20 years. He has worked with a wide variety of breeds and demeanors, ranging from basic puppy training, to extreme problem solving cases. His trusty companion and training assistant "Rufus" is always by his side. He is passionate about teaching people how to build a strong foundation of mutual trust and respect with their dog. He believes dogs do speak, but only to those who know how to listen. It's possible for all of us…
Stay tuned for tips regarding common problems and their solutions.