Need a Trainer/ Problem Solver
Know Someone Who Does???
First time clients: 10% off Your First Session
FREE IN-PERSON CONSULTATION
Private training/ problem solving in your home.
Christmas puppy becoming a handful?
From puppy training to aggression and everything in between, Dan will solve your problem, and help you help yourself.
A rescue causing stress within the home?
Dan can relieve your stress caused by an unpredictable dog, now.
A longtime family member needing some problem solving?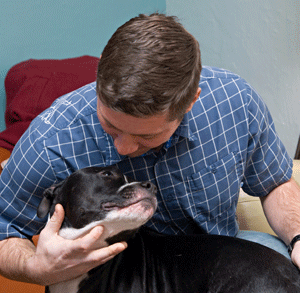 Dan's method goes far beyond basic obedience. He teaches reliable manners and expectations to both you and your dog(s). He will teach you and your companion how to build a mutual foundation of trust and respect.
It is never too late or too early to get started with your new life! You and your dog(s) will learn in a one-on-one personalized setting. Any dog, any breed, any age! Dan has over 20 years of experience and has worked with all temperaments. No more jumping up on guests, or you when returning from work. No more begging for food. No more excessive barking or food/toy aggression. Make walking with your companion a pleasant calm experience; free from anxiety.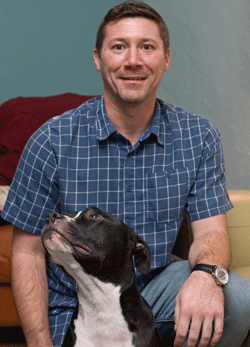 It's exciting to introduce Dan, an experienced pet trainer, who has joined Stay At Home Pet Services, llc as resident trainer. He is passionate about animals, their care and their relationship with their family.
Dan is a Cincinnati native and has been caring for and training dogs for almost 20 years. He has worked with a wide variety of breeds and demeanors, ranging from basic puppy training, to extreme problem solving cases. He is passionate about teaching people how to build a strong foundation of mutual trust and respect with their dog. He believes dogs do speak, but only to those who know how to listen. It's possible for all of us…